When we got to JFK, tried to check in at the kiosks using our passports – but they wouldn't scan – so used the confirmation numbers. Flight from JFK was pretty smooth - on time and no issues. Later during the flight, we realized that the plane wasn't as crowded as usual when I went to the rest room in the rear and noticed many empty rows. It would have been nice if the attendants mentioned it so that some people (like us) that were sitting in packed rows could have moved to the back. There were no lines at customs, but we had problems scanning the passports at the kiosks - a customs agent tried to scan them, but he also couldn't get them to read. So, he directed us to the agents to the right of the kiosks and they were able to scan our passports. The luggage was already at the baggage claim when we got down. I had bought 2 bottles of booze at the duty free at JFK and picked up 2 more at the Aruba duty free. Well, this was the first year that they scanned all of our luggage - so, I got busted. The agent said I could either pay the tax or get a refund at the Aruba duty free. I figured I'd pay the tax, but the tax amount was equal to the exact amount I had paid for the liquor - so, I returned the liquor for a refund. Looks like they were scanning everyone's luggage. As we've been doing for the last I don't know many years, we rented well in advance from Tropic and got our usual white Hyundai Accent and headed to Costa Linda on the main road (LG Smith). So, we didn't have to take that new detour.
We were driving out for dinner to Papiamento on Saturday (09/07) and noticed that the traffic on that road was much heavier than usual. We stopped at Wacky Wahoo's to make reservations for 2 nights and noticed many people were dining outside and it was very warm inside the restaurant and the lights were flickering. There were no problems at Papiamento. On the way back, the traffic was backed up as soon as we were able to get on that main road - we also noticed that some restaurants (Pika's Corner, Sol Mare, Local Store) were closed & thought that maybe they were on vacation - but, didn't recall so many places being closed at the same time in September. We heard this morning that there was a power outage affecting some areas in that area. Our friends from Kentucky said they drove to the new Fish House restaurant behind the airport, but it was closed due to the outage. Our friends from Boston took their grandson to the Paseo Herencia mall to see the water show, but the mall was closed due to the outage.
The beach at CLBR and Bacuti is not as crowded as in previous years - seems like a lot less people this year. Beach conditions at CLBR are wonderful so far - just a small ledge going into the water.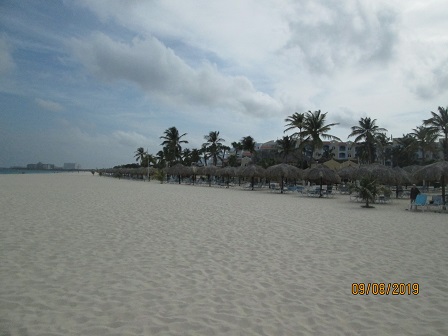 ]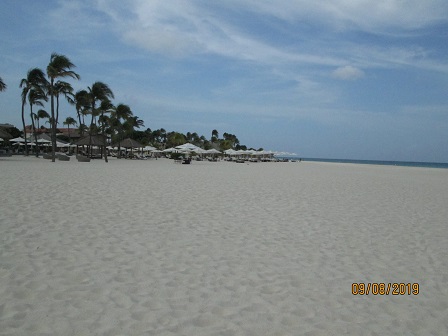 I took a walk south to Casa Del Mar to check out the beach condition there. There's a ton of rocks at ABC & i noticed they've replaced a lot of their natural palapas with white umbrellas that look just like the ones at Bacuti. Casa Del Mar also has a few of those white umbrellas. While I was walking on beach, I saw a Pelican land on the beach - it didn't bother the bird when people walked up to take pictures. A few minutes later, a 2nd one landed on the beach about 20 feet away from the first bird. We haven't seen any of those schools of small fishes in the water and haven't seen the Pelicans diving for those fish treats.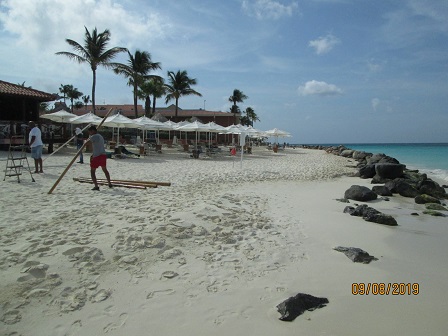 ]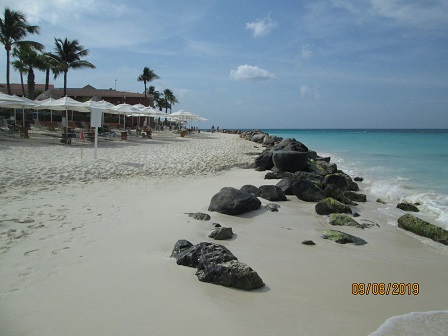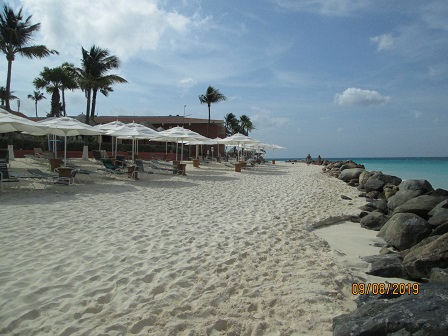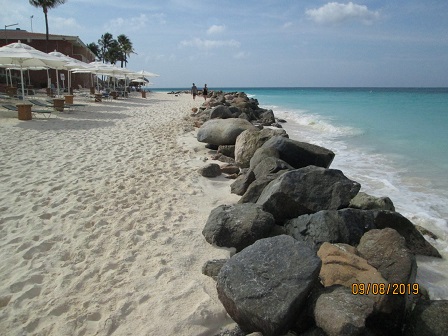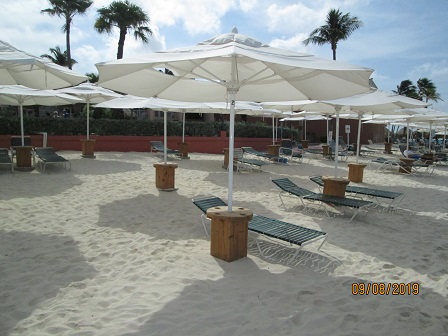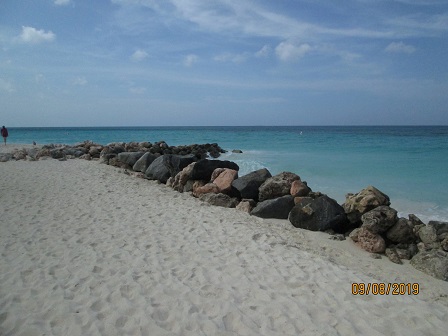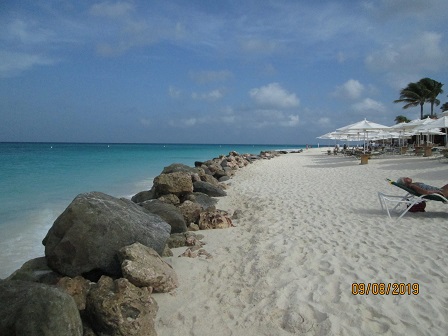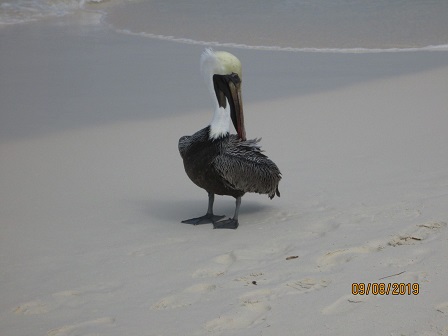 A guy staying at Bacuti built some nice sand sculptures - I got a picture of his sea turtle, but his other 2 (a whale and a cross) got wiped out before I got to take a picture.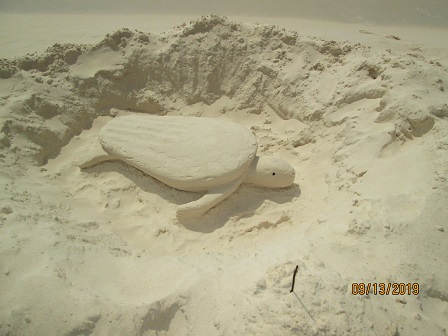 One of our friends from Kentucky was checking out at Ling's when the cashier noticed his Costa Linda wrist band & mentioned that CLBR members get a 5% discount off the bill - he just had to show his CLBR card and a manager had to approve. We had never heard of this - would have been nice to know after we spent $400 at Lings during our first week. This is the first year we got the wrist band (costs $4), which you can use to enter your room.
We keep seeing changes in the road conditions due to the ongoing construction. Today (09/17), they closed off the old southbound section in front of CLBR with small boulders. So when we exit the CLBR parking lot, we can only access the 2-way road from the new path. When coming back from downtown, you have to use the new path to enter CLBR's parking lot. It's confusing at night and you have to take the 2nd path.
Sea conditions started getting rough on 09/17 and we didn't go into the sea on 09/17 and 09/18. Waves were rough (we could hear them and see them crashing down from our balcony) and there was an undertow. Most of our acquaintances opted for the pool. On 09/19 we experienced a strong undertow in the morning that kept pushing us south towards Bacuti / Manchebo. It eased up in the afternoon and the sea was the warmest we've ever experienced - as hot or hotter than the pool. Overnight we had thunderstorms and heavy rain. In the morning, we noticed that the parking lot was flooded and a crew was pumping water out to the road. I took a picture, but didn't notice that the camera lens had condensation.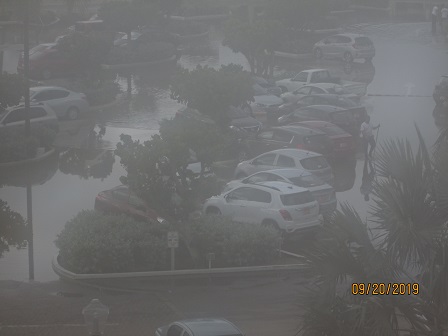 We were unable to go into the sea again due to the rough conditions. Conditions didn't improve on 09/20 & 09/21 - so, only did the pool. When we went out for dinner on 09/21, a sudden storm with heavy winds popped up after we were seated at the Local Fish Store - changed tables in the outdoor section several times - but when the rain started, we moved indoors. Wind was so strong that it blew the empty water glasses and place mats off the tables; waiter swept up the broken glasses and gathered up the unbroken glasses and mats.
On 09/22, the surf was too rough for us again, so we only did the hot tub & pool. It started raining around 11:30 - we were going to stick it out on the beach, but the rain got too heavy and the palapa couldn't provide enough cover, so went to our room. The rain would stop & it looked like the sun was coming back, but then the rain would start up again - this happened about 5 times – took some videos, but was unable to upload to Photobucket. The parking lot flooded again & I didn't see the crews working to pump the water out onto the street.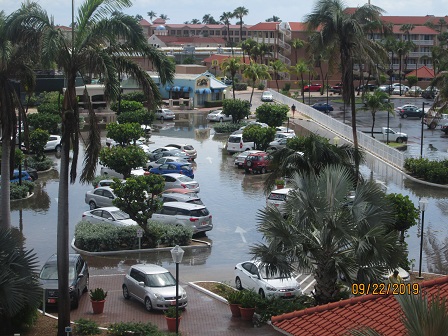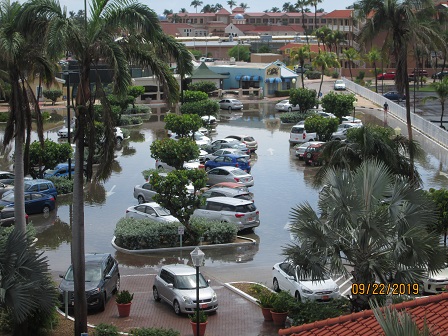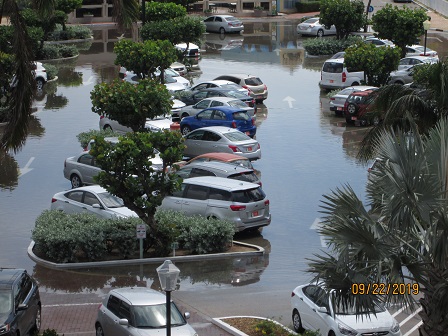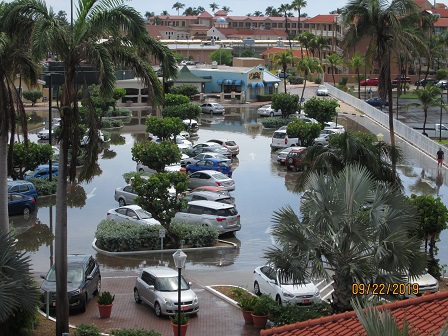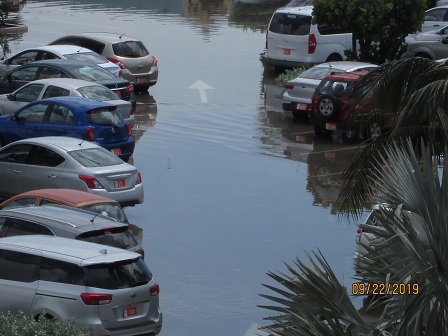 When we went out for dinner, didn't realize how high the water was and my shoes got soaked – should have worn sandals. After I drove the car to the front, I had to change my shoes. Still was flooded when we got back from dinner, but I found a spot close to the front.
09/23 didn't start out too well - there was no breeze at all in the morning hours - the tops of the palm trees were motionless. We started getting a bit of breeze around 11:30 & by mid-afternoon we had a nice breeze. Surf wasn't too rough and we were able to finally go in for a dip - only issues were the ridges where a whole bunch of rocks and dead coral gathered - it almost felt like walking on glass.
09/24 - another bummer beach day. Too rough to take a dip. After lunch, we decided to drive to Boca Catalina to do some snorkeling - figured there would be no waves there. Wrong - was rough there as well - same at Arashi. So, back to CLBR to do some pool time.
Morning of 09/25 started out with no breeze in the morning, but sea was calm & we only had to deal with the ridges and tons of rocks / dead coral. As the day progressed, we got some breeze, Around noon, we noticed dark clouds and thunder - so, we headed up to room for lunch. We only got some light rain. The afternoon was pretty hot with only an occasional breeze.
Our last full day, 09/26, started out like previous day - no breeze at all in the morning hours & sea was very calm. As the breeze finally started, the surf acted up - but we were able to get in and out OK - still had the ridges, rocks and coral to deal with - but, overall, a good day.
Nothing out of the ordinary on our trip back to NY. Smooth flight with no turbulence & we arrived on time. As usual, it was a zoo at the pickup area at the Jet Blue arrivals. When I spoke to the limo driver, he said he'd be there in 5 minutes. I turned to DW & said "5 minutes? No way". We waited over 30 minutes (which is the norm) before hooking up with our ride. We got home around midnight.