Thought I'd post a short report from our last visit and share a few pictures. It had
been over a year since our last visit, and we had a pretty rough year, so this trip was
one my wife and I had really been looking forward to and we were both rarin' to go.
This was our first time flying United, and it was by far, the worst traveling experience
we've ever experienced. We were flying DSM to EWR with a short 45 minute layover in
EWR, and then from EWR to AUA. We started out with an hour delay in DSM because
the plane had not been fueled and warmed on time. This gave us almost zero chance
of making our connecting flight. We arrive at EWR and rush to the gate to have them
notify the plane we were on our way. Too late, plane was closed for boarding, and
they would not wait for us to get there. We were bummed. Spoke with a TA and they
were able to get us on an AA flight to Miami and then on to AUA. We took the flight,
arrived on Aruba around 11pm and upon arriving, discovered our checked bag and my
guitar did not arrive. Yay! Rental car was not there because they were not aware of
our delay/missed connection, so we took a cab to LaCabana. Spent the next two days
trying to figure out where our luggage went. We got our checked bag two days later,
and my guitar showed up three dyas later. We did our best to not let it ruin our
vacation, and just went about our daily ritual of getting up early, securing a palapa,
and enjoying our beach time. We aren't foodies, so really don't have much to report
on dining experiences other than a nice meal at Terrazza Italiano. We had made
reservations for two, and then met a couple at the beach from Long Island that
decided to join us for dinner. We arrived and they were able to accomodate us, but
warned that our wait time may be a bit longer. It was longer alright...over two hours
before they brought our food. We got a pretty weak excuse that they had delivered
our order to another table that had ordered the exact same thing....right. Not a big
deal, though....we had a nice dinner and good conversation with our new friends that
made for an enjoyabe evening. We ended up getting adjacent palapas with our new
friends foe the rest of the week.
We decided to do a spa day at Mancebo for our self indulgence.....wonderful as
always. Love that place.
On Monday, 3/6, we headed up to the Arashi area in the early evening to honor my
mom's birthday by tossing a yellow rose to sea in the same place we had scattered
her ashes on a previous visit. Shortly after, a big puffer fish swam up to the rose and
circled it. We actually captured a picture of it! It was a special moment for me, and
one I will never forget.
The days and evenings passed all too quickly, as they always do until it came time to
leave. We arrived at the airport at 11:50am for a 2:50 departure and immediately
noticed our flight was delayed two hours. We proceeded through the long lines and
checked our bags for a long wait at the airport. As time passed, our flight was again
delayed another two hours....maintenance delay. As it turned out, our plane finally
arrived at around 9pm....nice. Hang on....it gets better. The TA then gets on the mic
and announces that our flight has been canceleed because a flight attendant was
suffering from inner ear issues and was going to need medical attention. Law requires
a certain number of crew members per number of passengers before they can fly.
Chaos ensued as the TA desk was flooded with PO'd passengers. It was a nightmare.
We ended up picking up our checked bags, and getting a cab back to LaCabana where
we stayed for the night. Went to Pizza Bobs and had a pizza and beer before
collapsing in bed. Woke up early the next morning and made arrangements to fly AA
all the way back home. I did contact UA customer service to see if they would
compensate us for our troubles. They ended up reimbursing us for some expenses and
gave us each 600.00 in travel vouchers. So in the end, all was not lost. We are using the
vouchers to make a return trip this summer.
Here are a few pics.
Note:I tried to add more pics but got an error message saying I am only allowed to post four URL's. If anyone knows a workaround, let me know.
Fun with friends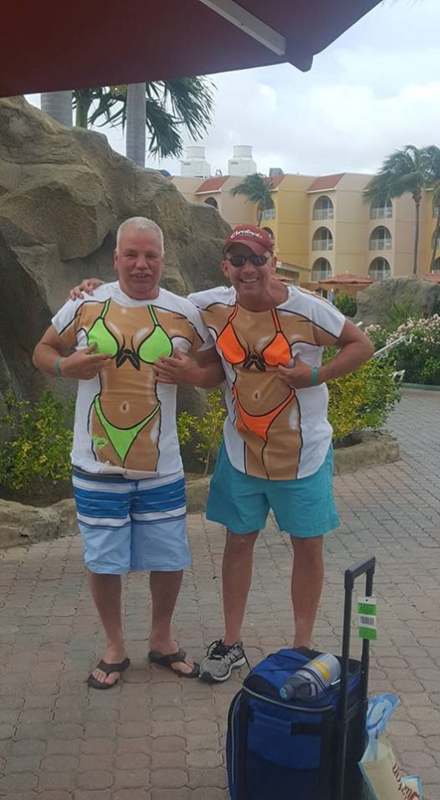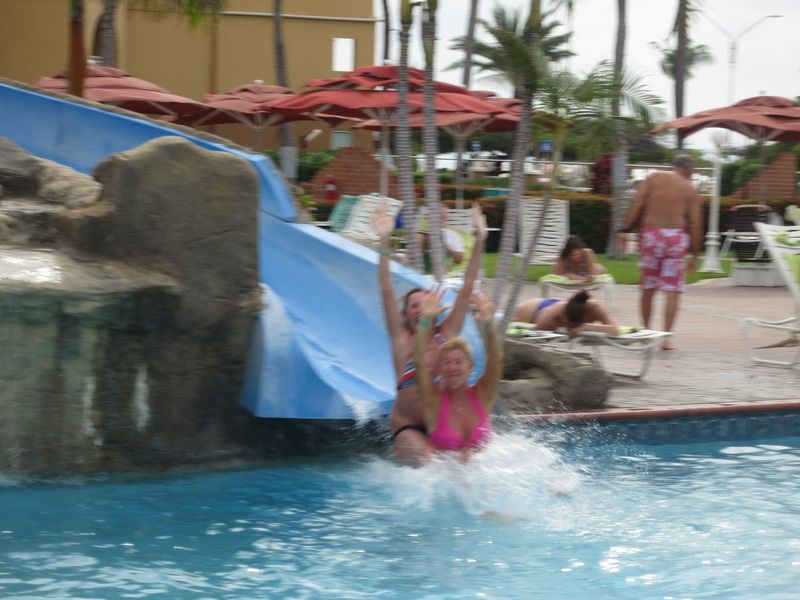 Me and Mrs Danno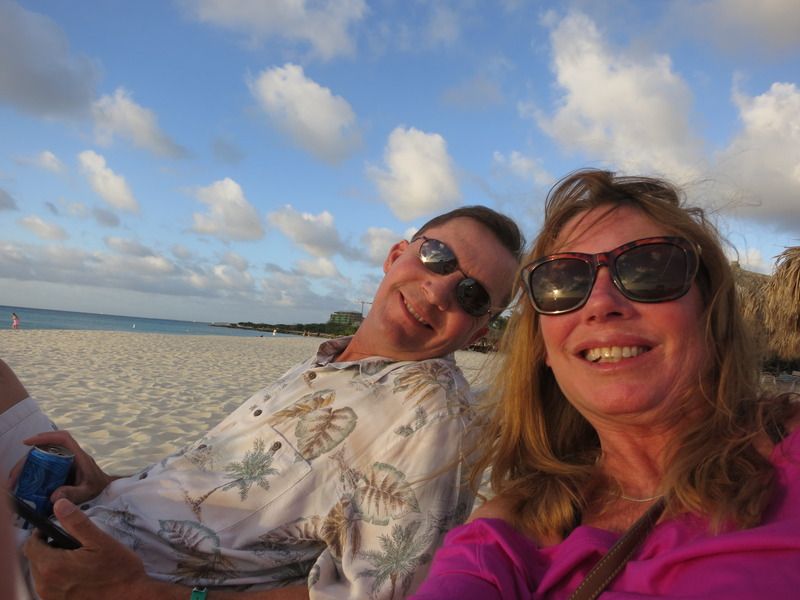 Yellow rose for mom